The backup actually works in WHS!
Tags:
Windows Home Server
Software
During Easter this year, our Media Center PC had a hard disk crash. The Media Center PC luckily was one of the computers enrolled in our Windows Home Server system, and thus WHS maintained a daily backup of the system. Read about how the restore went!
Now had the time come to try out the Restore CD for the first time, with a brand new disk!
The Media Center PC is actually a Dell 8600c laptop, with an external USB TV card attached. From previous operating system installs on this machine, I have during the very initial install, experienced huge challenges with the network-adapter, usb ports etc. There has always been some very low level, basic drivers that had to be forced in with the F6 (remember, F6 add additional SCSI drivers-type question during OS install). Typically has the network adapter not worked until the OS was completely installed, and I manually installed the network drivers.
I was therefore pretty sceptical that the Restore CD from WHS would suffer from the same symptoms, and not being able to connect to the WHS server and retrieve the backup! The first try resulted in a hang!
The Restore CD won't come further than the "Initializing Restore CD" above...
However, I remembered from previous refitting of completely new unpartitioned hard disks, that the hard disk probably should have some partitions and some formatted disks. I used my brilliant SATA/IDE adapter
Scythe "Kama Connect 2"
, which let me connect a loose SATA or IDE disk as an USB hard disk directly.
So after some hard disk partition and initial formatting, the hard disk was again stuffed into the Dell, and a new try was undertaken!
This time everything worked!! Those initial nerves about network adapters etc was completely unnecessary!
The Restore CD booted up, and took a looong time to come up.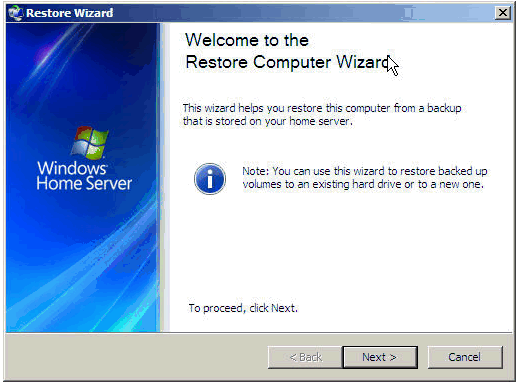 Everything was found and connected! Even the network adapter was up and running, and I could easily select which backup I wanted to retrieve;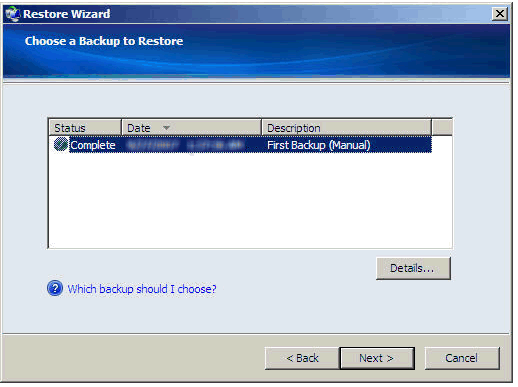 I was also amazed that I could use the Disk Management tool as we know it from Windows itself, you partition and prepare the brand new disk directly;
After completing some more dialog boxes, the restore process commenced and after a not-so-long time (compared to how many GBs transferred) the machine was ready to restart!
During initial booting, Windows had to perform a CHKDSK, but everything came up without any hassle!! The Media Center PC was up and running again, and I am nothing but very impressed with the backup- and restore feature in WHS.