Domino 9.0.1 FP5 finally installed, but "nsdhelp.dll" was missing afterwards ...
Tags:
Lotus Domino
According to this news flash from IBM, they ackowledge that there is some problems with the FPP5 updater. Indeed so, it won't install if you have hotfixes installed as I blogged about here.
The news flash from IBM also stated that you could rerun any hotfix-installers to revert back to the previous level of code. I found my HF419 installer and ran it again. First it identified that I could revert back to vanilla 9.0.1 FP4 level, and I continued... First off I got this: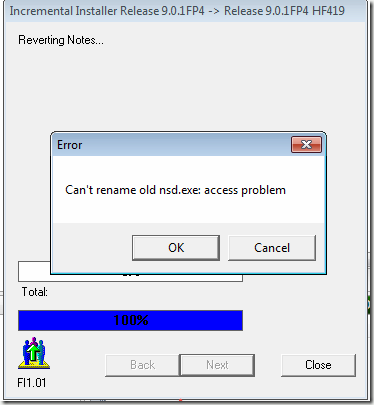 ... hmmm, for some reason the updater didn't finish off the running nsd.exe, so I had to do that manually via the Windows Task Manager. Re-ran the code and now it finished with success
Time to re-run the FP5 updater, and this time it correctly identified the 9.0.1 FP4 code and let me finish with success.
However, on a re-start of the Domino server, it couldn't start due to a missing nsdhelp.dll file;
Bummer!! I couldn't find it anywhere on my server, so I had to restore it from my backup!!
The last sign of nsdhelp.dll is in the UPGRADE.LOG and it seems like the HF419 renamed it:

...
Rename: canFileName: nsdhelp.dll, dw = 9
Temp file size was 0: UPTMP0009.TMP
....

Seems like the FP5 updater went a tad too fast through the quality control this time. Normally I would say that upgrading the server has been a breeze over the last years. Just download the updater, run it, and voila ... the server is updated.