Tags:
Cool Tools
One of the tools I really use a lot, is FinePrint from
FinePrint Software
. It is a printer driver, which can accept any print-jobs you may have by using standard print functionality in your software.
Instead of sending the output directly to a printer, you will see the output in a separate window, where you have many cool features available;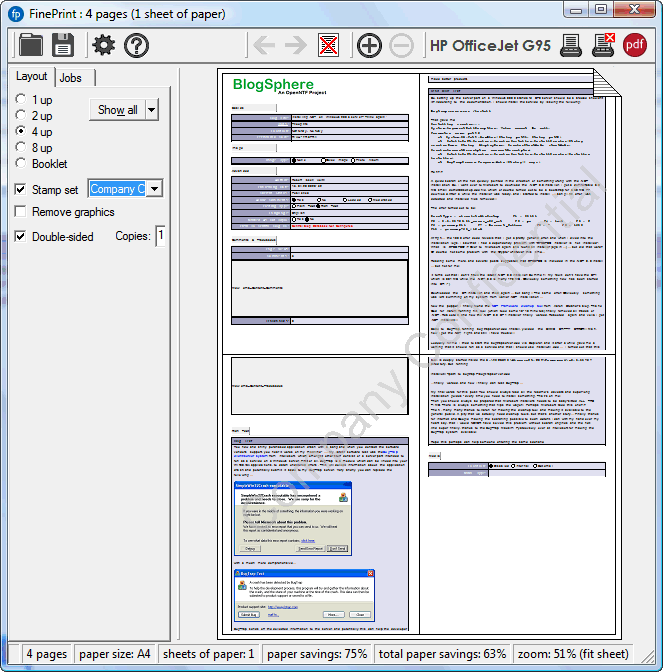 Amongst the features are;
Print multiple pages on the same sheet. In the sample above, I have selected to print one of my Blogsphere articles with 4 full pages on a single sheet! This is great if you want to just print something to bring along ...
Delete unwanted pages. No need to include all pages if you don't want to
Combine multiple print jobs into one. You can for example first print something from Notes, and then a Excel spreadshet. FinePrint combines them as you go!
Stamp you pages with transparent stamps, such as "Company Confidential". In the sample above I have done just that. You can just as easy add page number etc, in a much better way than Notes. I often skip Notes ability to "control" (ha ha ha) the footer and header, and use FinePrint instead. You can of course save your own stamps!
Archive print jobs. FinePrint can easily save the jobs as own .fp files, which can be printed later.
Convert to grayscale - and/or remove images if you want to do that.
Use electronic letterheads
Export the print as JPEG etc
Finally, super tight integration with another FinePrint product;
pdfFactory
, which makes it a breeze to create PDF documents. This is pretty similar to Adobes PDFWriter, but I like the look and feel similarity to FinePrint.
My verdict: Run a buy!