Tags:
Configuration
Thoughts
Suspect your USB connections – allways!!
Expect to spend hours on the forums looking for symptoms, hints and stuff to try out!
DON'T EVER THINK about getting the Microsoft Surface Dock … piece of heavy junk!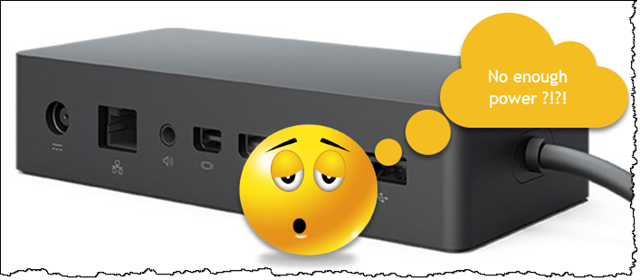 Disk operations onto the BitLocker-drive reports tons of errors1!
Isn't it great when Windows (and most other software too
) gives you completely other symptoms to problems?
In my previous post I tried to get BitLocker to play nicely on my machine. Huge problems with drop-outs, perhaps not even the fault of BitLocker itself, but it turned out that I couldn't even connect the disk anymore without Windows going completely haywire! Lot's of messages in the event log like;
"Reset to device, \Device\RaidPort3, was issued"
"The IO operation at logical block address xxx was retried"
"A timeout (30000 millisec) was reached while waiting for a transaction response from the WSearch service"
Trying to salvage the drive – and as a result of reading loads of forum-posts on the net, I saw that I could try to use the old CHKDSK again. Run in as an Administrator with the parameters /F /R and /X (well, F should be automatically implied by R). The most important parameter is the X, which tells CHKDSK to unmount the drive for processing. The first run yesterday evening ran for a full 6-7 hours, and when I returned to the computer this morning, I couldn't get in touch with Windows at all. Something was stalling the machine 100%!
Disconnecting the USB drive docking and Windows came up (pheew!) without problems. Connect the USB drives again, and boom – everything was stuck.
After many attempts I finally was able to issue the CHKDSK command. It ran for a while, and boink – "An unspecified error occurred"?!?!