Engaged at Engage 2017 in Antwerpen, Belgium!
Tags:
Thoughts
Over the years I have attended many Lotuspheres and the latter IBM Connects. What I really enjoyed in the first Lotuspheres, were the intense depth of some of the sessions. Remember C API sessions with difficulty settings? Tree dots meant the real deal! Well, those days are over and generally Lotusphere has become more and more a marketing event. Not necessarily a bad thing, but not the same as "back then"

Over the last years I have seen that the Belgium Engage-conference has gotten more and more coverage, and this year I finally got a change to participate for the first time!
Off we went to Antwerpen! Traveling in Netherlands and Belgium is  literally a breeze with the superfast TGV-train! Within an hour you have traveled from the Schiphol-airport in Amsterdam to Antwerpen, Belgium. 300 km/h!
Below you see the TGV-train, some parts of the marvelous Centraal Station and a snapshot from the Koningin Astridplein just outside the station;
Note to self; turn off the orientation-thingie in Google Maps when walking in a city. We had a little walk in the completely opposite direction for 20-30 minutes

We installed ourselves in the Radisson Blu Astrid Hotel right on the Koningin Astridplein. It turned out to be a fantastic hotel, and that has nothing to do with me being upgraded to a very spacious flat with 3 rooms

   Below you see the front of the hotel (my room is facing towards the plein, at the 3. Floor);
The day after I woke up to this view – looking right down at the Central Station;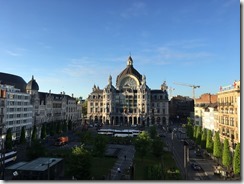 To the left of the station was the venue for Engage, the Koningin Elisabethzaal. As the hotel, that venue was almost perfect for this kind of event.
Opening General Session
With just below 400 participants, we could easily fit inside the main hall;
The rooms for the coming session were all spacious and I never experienced an overflow-situation. Always nice to be able to actually attend the sessions you want to!
In the Keynote and Opening General Session, Engage's main man Theo Heselmans opened the show and gave the word to a series of IBMers and some business parters. Good to hear that the support for IBM Notes/Domino wasn't pegged  once and forall to 2021, and that we will be able to get a free, no strings attached, Domino-server  for non-commercial development! It was also super-cool to hear Pink's Jason Roy Gary (in a pink suit … of course

) talk about the continuous delivery program for their new software with 7 minute builds. Add the open review meetings every fortnights, and IBM is finally catching on to new ways of building and shipping software. Cool!
Sponsors – and how I had much more interaction with them!
I don't know about you, but when it comes to sponsors at events like this, I seem to get into a kind of zombie-state. I want to look a little and peek at the stuff the sponsors have, but in general I keep some distance not to be sucked into a poentially lengthy sales-pitch.
Well, this event wanted otherwise! Next up in the Opening General Session was a hilarious speed-sponsoring thing where each sponsor only had 30 seconds to pitch why we should attend their booth. And when Engange says 30 seconds, he means it! The microphones were simply cut off at exactly 30 seconds. Lots of fast and funny presentations! My top points goes to the brave Cross-Ware guy that asked his Amazon Echo (not quite sure, but one of these gadgets you can talk to

) about his product, and it worked (!), all within 30 seconds! Next top-runner was the Shakespeare in 30-seconds by BCC, hahaha!
The speed-sponsoring were just the first of many ways Engage got me to be much more in touch with sponsors than ever before. Lunch was in the middle of the sponsor area, and due to the placing of the stand-up-and-eat-tables, you were practically eating between the sponsor-booths. This was't bad at all and felt natural.
At the end of the first day we had a speed-date-style sponsoring event, where every participant had been preallocated to start a specifed sponsor booth. A microphone man started a timer, and every sponsor had 2 1/2 minute to do his or hers sales-pitch . Combined with an open bar, this turned out to be a very entertaining event!
What I liked best was that I could now get a quick glance at what each sponsor actually had, and not beeing forced to stay for lengthy pitch! After exactly 2 1/2 minute, the group were off to the next booth. Since we were collecting signatures from each booth …. we could eventually win something too. Here is my proof that I completed the whole round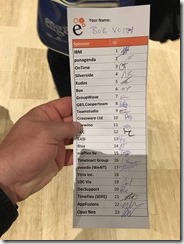 My colleague Petter Kjeilen was one lucky man winning a fine bottle of Duvel-beer! Nice!
The end result of the speed sponsor event was that it felt much easier to go to the booths afterwards. Way to go Engage – and way to go sponsors for future events!
The REST of Mondays sessions
Remember, the full schedule with all sessions and some slides too, can be found here. As always, it is a struggle to choose between so many promising sessions!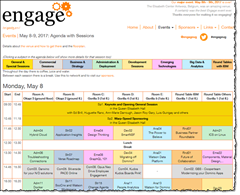 My first session after OGS was "Dev02. SmartNSF – It's smart, really!" By Christian G??demann and Martin Jinoch. Very briefly is SmartNSF a plugin enabling Domino-databases to very very quickly set up REST services support. With suble swiss humor Christian guided us through the concepts of SmartNSF and how to use it. Very clear definitions of business- and application behavior and why it is important to separate these. It is quite clear that Domino easily can be a very powerful container for micro services, and thus participate in the future world of component-based technologies. Domino at the back-end with secure, potent, microservices and whatever (Angular, ReactJS etc) at the frontend.
Next up were "Eme08. GraphQL 101" with Paul Withers and Philippe Riand. They presented the extremely powerful query-technology GraphQL from Facebook and how it has been implemented in Watson Work Services, Connections Pink and in Darwino. Via the latter, you can use an open source component to access Domino data with GraphQL. This feels like future for the past!!
Having gotten the first shot of GraphQL, the next session "Com03. Darwino, the solution for your Notes/Domino applications" by Philippe Riand and Jesse Gallagher, was a easy pick the next session. Now we saw how to use GraphQL in real life. Cool!
No doubt about that there were loads of interesting sessions at Engage. The next session was "Ana13. The Watson Explorer API for Domino explained" by Hans Petter Dalen. Unfortunately it turned out that he had no actual demo, so this session ended up more like a presentation. Interesting!
The final session for Monday was "Dev05. Cognitive Team Collaboration Development with the IBM Watson Work Services APIs" by Joe Russo. Laid back and clear Joe guided us through Watson Work Services APIs. Cool!
After the sessions it was time for the speed sponsoring event, which I touched above. Very nice!
Full of new info and impressions (and some beer

) Monday ended up in a nice restaurant named Appelmanns. At the way home I spotted the real "REST Services"

Tuesday
Early up and first up was "Eme03. Your App Deserves More - The Art of App Modernization" by Christian G??demann and Christoph Stoettner. Focus on components instead of monolithic systems and what and how to get there. Very nice!
Next was "Str06. Domino Application Development: Present and Future" by Martin Donnelly, Brian Gleeson and Barry Rosen. Deep dive into what the feature packs contain both up til now with FP8 and the future FP9. Good to see that IBM still has some good folks working on Domino and XPages! Comforting and good!
The next session was skipped and replaced by a little tour in the neighboring City Zoo in wonderful temperature and sunshine. It is one of the older zoos of its kind, and hosting lots of animals;
After the break I attended "Adm03. Successful Domino Consolidation and Cost Reduction" with Daniel Nashed. He had a whole series of super important tips on how to optimize and automate the Domino servers. Very good!
The "Dev21. OpenNTF, ExtLibX, Darwino, OpenCode4Workspace and the Future" with Christian G??demann was next. This was a round table presentation and discussion where Christian presented how OpenNTF wants to embrace the future with new initiatives. Nice!
The last session was "Dev22. Domino Next Generation IDE" by Paul Withers. Again a round table where Paul told us about his initiative to create a plug-in enabling developers to stay more inside Eclipse. Today developers has to do all adjustments (much with views) in Domino databases with Domino Designer, and hopefully some of this can be moved outside of Designer in the future. Good to see dedicated developers like Paul. I think we owe these guys many thanks!
Then, all of a sudden, two hectic , super-informative days were ended by the Closing Session. Again Theo orchestrated the session and rounded up the Engage event with many thanks to all speakers, very generous sponsors, his obviously patient wife, the folks at the Koningin Elisabethzaal and others!
It all ended with a funny and entertaining raffle where lots of very nice gifts were given to lucky participants! I won a nice Google Chromecast!
Conclusion
Key topics for me to bag; Micro-services, SmartNSF, component-based development, GraphQL – and a bunch of names of knowledgeable people!
Engage were definitely an event not to miss, and it was pulled through with a professionalism compared to none. In many ways it even surpasses Lotusphere and IBM Connect! As far as I could see, everything went smooth and fine, and everybody seemed happy and content. The site, event-people, food and drinks where very good, and I thank Theo and the event team, together with all the sponsors, for a fantastic event. Of course this couldn't have been pulled off without quality speakers, and I am amazed of how many knowledgeable and good speakers our community have! A big thank you to all of them too!
With that,  I wrap it up with some pictures from the astonishing train station of Antwerpen;
Wanting to go to Engage 2018? Keep an eye on https://engage.ug/ and mark May 2018