Tags:
LotusScript
Today I had to debug some old code, and when doing so I stumbled over something which I found strange.
LotusScript would not consider the value 100 equal to the value 100 … Let me explain with some simple code (you can click on every image to get a larger one by the way);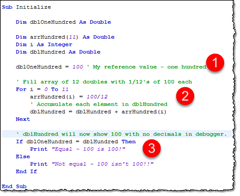 I put the above code in a test-agent.
Marked by 1, I set my reference value to the value 100 (and yes, by purpose I don't use the forced floating point notation 100.0)
Marked by 2, I fill my array of 12 doubles with 1/12 of 100 each.
Marked by 3, I compare the two variables dblOneHundred and dblHundred.
Below you see how the array look in the Designer's Debugger;
As you see LotusScript does a nice job of converting my division (100/12) and storing it as a doubles. For each time I fill in an element in the array, I accumulate the values in the variable dblHundred. Again LotusScript seems to do this nicely. Below you see what it looks like after I have run the loop 11 times;

… and when the array is completely filled, the Debugger shows that the variable dblHundred has the accumulated value of 100. Below you see the code just before the comparison line marked by 1 is executed;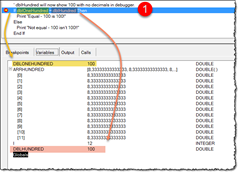 As we see in the debugger, both values are shown as 100 in the debugger, and I would believe that the comparison would be true. But no …
If you want to see more, both on my take for an explanation, the workarounds including code to try out, please continue to read below.